Biosketch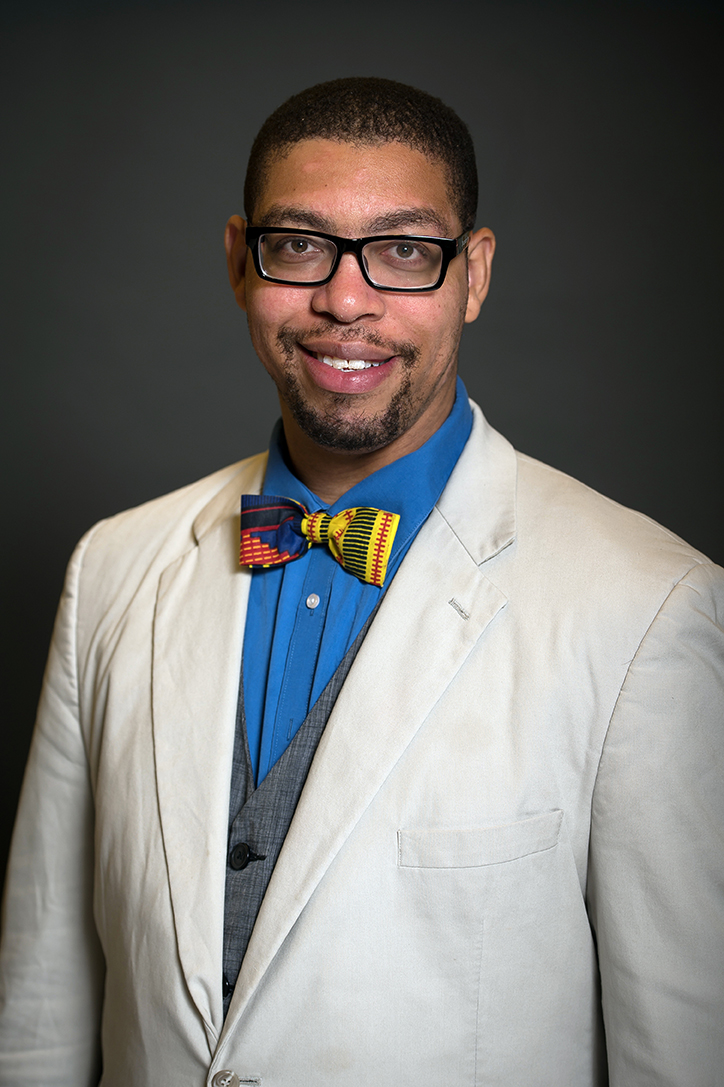 Dr. Antentor Hinton, Jr. is a tenure-track Assistant Professor in the Department of Molecular Physiology and Biophysics in the Vanderbilt School of Medicine Basic Sciences at Vanderbilt University and a member of the Vanderbilt Diabetes Research and Training Center and the Ernest E. Just Early Career Investigator. Dr. Hinton's research projects, including those funded by United Negro College Fund/Bristol Myers Squibb, the Burroughs Wellcome Fund's (BWF) Career Awards at the Scientific Interface (CASI), and NIH-SRP, aim to elucidate insulin-mediated molecular mechanisms that regulate cristae dynamics and to identify molecular mechanisms that underlie molecule transfer between and morphological changes in the mitochondria and endoplasmic reticulum (ER) that can be altered in pathophysiological states, such as diabetes or cardiovascular disease. More recently, Dr. Hinton received the Chan Zuckerberg Initiative Science Diversity Leadership Award for his FIBSEM and SBFSEM imaging work on mitochondrial networks in human disease. Dr. Hinton is an active member in the Endocrine Society and serves on the Committee on Diversity and Inclusion and Scientific Statements Subcommittee. Currently, Dr. Hinton serves on three editorial boards: Circulation Research, American Journal of Physiology – Heart and Circulatory Physiology, and Advanced Biology.  
Next of all, Dr. Hinton's laboratory has a strong commitment to diversity. Dr. Hinton has published 4 STEM education papers and 26 diversity, equity, inclusion, mentoring, and career development commentaries. Dr. Hinton is currently a national leader on matters related to diversity, equity, inclusion and mentoring. Some of Dr Hinton's publications include Cell, 2022, Cell, 2020, EMBO, 2020 (a), EMBO 2020 (b) Nature Biotechnology, 2020, Trends in Cancer, 2021, Trends in Biochemical Sciences, 2021, Trends in Biochemical Sciences 2022, Cell Reports Medicine, 2021 (Shared 2nd Anniversary Cover), Cell Reports Medicine, 2022, Trends in Immunology 2022, Trends in Cell Biology 2022 (a), Trends in Cell Biology (b), Trends in Biochemical Sciences, 2022 (First DEI/career development cover article for a scientific journal), Trends in Plant Sciences, 2022 (Second DEI/Career development cover article for a scientific journal, Trends in Parasitology, 2022 (Third DEI/Career development cover article for a scientific journal), Trends in Chemistry, 2023 (Fourth DEI/Career Development cover article for a scientific journal) and Trends in Pharmacological Sciences, 2022 (First mentoring cover article for a scientific journal). These pieces are constructive and heavily use the literature to make recommended suggestions.
Dr. Hinton is a former BWF Postdoctoral Enrichment Scholar, EE Just Postgraduate Fellow in Life Sciences, and Ford Foundation Fellow at the University of Iowa in the Department of Internal Medicine in the Division of Endocrinology. Dr. Hinton worked in the laboratory of Dr. E. Dale Abel, the Chair and Departmental Executive Officer of Internal Medicine and Director of the Fraternal Order of Eagles Diabetes Research Center (now UCLA). Under the co-mentorship of Dr. Abel and Dr. Renata O. Pereira, he elucidated the mechanisms by which insulin signaling regulates optic atrophy 1 protein (OPA1) activity in skeletal muscle. Dr. Hinton made the exciting observation that loss of OPA1 in skeletal muscle in vivo and in cultured myotubes is associated with an increase in mitochondria-ER contact sites (MERCs). Notably, MERCs are characterized as specialized membranes enriched in specific proteins believed to be essential for calcium flux, lipid transfer, and mitochondrial morphology. In addition to this project, Dr. Hinton has spent the past several years perfecting methodology to rigorously quantify these contact sites using electron microscopy and has become an expert in the ultrastructural analysis of inter-organellar interactions in muscle cells. 
Notably, Dr. Hinton has published 70 papers in peer-reviewed journals (63 peer reviewed and 7 on bioRxiv or in press). He also has received 55 awards, including a 2-year student loan repayment grant from the NIH's National Institutes on Minority Health and Health Disparities, the Basic Science Research Award during the National Institute of Diabetes and Digestive and Kidney Diseases Network of Minority Health Research Investigators Midwest Regional Workshop, and the BWF CASI, which is a $500,000 career transition award. 
In addition, Dr. Hinton has personally mentored 70 graduate and undergraduate students, who have achieved or are currently in the process of acquiring a Post-Baccalaureate Certificate, Master's degree, Doctor of Philosophy degree, or Doctor of Medicine degree. I supervise 2 Staff Scientists, 5 postdocs, 3 research techs, 1 grad student, and 12 undergraduates in my laboratory. Dr. Hinton has a diverse laboratory, and Dr. Hinton seeks to be an optimal mentor for all individuals. Dr. Hinton has participated in mentor training in culturally aware techniques for mentoring in the last three years. As such, he is a strong proponent of formalizing shadow mentoring or casual mentoring. Casual mentoring is the practice of non-formalized mentoring, which may include personal opportunities. Dr. Hinton has casually mentored over 500 students of varying academic levels. Additionally, Dr. Hinton's commitment to mentoring resulted in him obtaining a Master Mentoring certificate from the NIH-funded National Research Mentoring Network.
Dr. Hinton has been a passionate mentor to undergraduate students and has supported the careers of many undergraduates in Dr. Abel's laboratory. He is an attentive and thoughtful mentor and has successfully obtained competitive support for his mentees from multiple university and external sources. He has been recognized with four university-wide awards and an organizational mentorship award, the Iowa Center for Research by Undergraduates Distinguished Mentoring Award, Center for Diversity & Enrichment's Distinguished Educator Award, Diversity Catalyst Award, inaugural University of Iowa Health Care DEI Leadership Award, and an LSAMP Excellence in Mentoring Award.
Additionally, Hinton began to collaborate with the UI Health Care Office of Diversity, Equity, and Inclusion on medical campus outreach initiatives. He and the team, led by Associate Dean Dr. Denise Martinez, discussed the need to further emphasize career development for students. They also recognized the need to increase the diversity of their college's student population. Hinton sought to address this deficit by becoming a recruiter for the academic medical center, graduate college, and the NIH-funded Post-Baccalaureate Research Education Program (PREP). Martinez and Abel also worked together to name Dr. Hinton as an Academic and Career Development Instructor on the diversity team. During this time, Dr. Hinton, with encouragement of the diversity office, created the "100 Inspiring Black Scientists List", "100 More Inspiring Black Scientists List", and, in collaboration with the Community of Scholars, curated the "1000 Black Scientists List". Dr. Hinton also created a follow-up post discussing the purpose of the "1000 Black Scientists List" through an addendum list.
For all these efforts related to diversity, Hinton has been recognized by Forbes magazine as one of the 100 Black Culture Makers and Thought Leaders. This honor was also featured in the 2020 Inaugural Year of the Digital Book Celebrating 100 Black Culture Makers and Thought Leaders. Notably, Hinton secured a Visiting Postdoctoral Fellow Appointment at the Mayo Clinic, where he conducted research in collaboration with Dr. Jeffrey Salisbury, a world-renowned cell biologist who runs Mayo's Central Microscopy Core. Under his mentorship, Hinton advanced his training in serial block-face scanning electron microscopy and transmission electron microscopy quantification.
In 2016, Dr. Hinton graduated from the Integrative Molecular and Biomedical Sciences Ph.D. Program at Baylor College of Medicine. During his time at Baylor, Dr. Hinton served on the Initiative for Maximizing Student Development Committee, served as the President of the Association of Graduate Student Diversity for two years, and was Vice President of the African American Men in Science Association. Notably, Hinton was first author on 2 and co-author on 15 publications during his time as in the laboratory of Dr. Yong Xu, an Associate Professor of Pediatrics MD, PhD. The publications on which Dr. Hinton was the first author demonstrated that nuclear receptor, estrogen receptor alpha and coactivator, and steroid coactivator 1 in extra-hypothalamic sites are important for the control of stress-induced hypertension, blood pressure maintenance, and aortic stiffness in females. Overall, Dr. Hinton's coauthor publications focused on identifying estrogenic sites of action in the brain that control energy homeostasis and binge eating and explored new hypothalamic energy expenditure roles after the ablation of ion channels, deleting novel nuclear receptors, or stimulating with chemical compounds. Additionally, Hinton won 26 career development, travel, research, oral presentation and poster, and graduate fellowship awards during his PhD training. Dr. Hinton was co-author on three publications during his rotations before joining his dissertation laboratory; two focused on bone cancer, and one was a clinical paper.
Before earning his doctorate, Dr. Hinton graduated from the NIH SMART PREP at Baylor College of Medicine in 2010, where he finished first in the class. Lastly, Dr. Hinton's professional education started at Winston-Salem State University, where he earned a Bachelor's degree in biology with a minor in chemistry. Dr. Hinton also played collegiate tennis for Winston-Salem State University. During his time on the team, he received the Coach's Award in his senior year and made the Commissioner's All-Academic Team for the Mid-Eastern Athletic Conference every year that he played. Dr. Hinton enjoys tennis because, by analogy, it allows him to improve his scientific approach by looking at science from different angles. Lastly, Hinton also participated in the Tri-Beta Biological Honors Society, STEM Scholars Program, and MARC U*STAR Scholars Program as an undergraduate student.