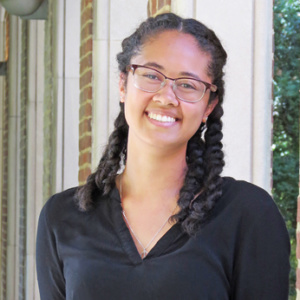 Nadjali A. Chung
Graduate Student, The McLean Group

---

The University of North Carolina at Greensboro, NC – B.S. in Biochemistry
Background:
Nadjali received her BS in Biochemistry from The University of North Carolina at Greensboro (UNCG), where she used mass spectrometry-based assays to investigate the anti-virulent effects of bacterial, fungal, and plant metabolites on methicillin-resistant Staphylococcus aureus (MRSA). From that, she was involved in sequencing a peptide shown to inhibit a quorum sensing system in S. aureus. She is now in a co-mentorship with Dr. Renã Robinson, where her work focuses on using proteomic approaches to understand racial differences in septic infections. In Dr. McLean's lab, she has been studying the effect of solvent systems on the collision cross sections (CCS) of small molecules. In the future, Nadjali is interested in investigating other fundamental aspects of IM-MS, as well as combining the proteomic and metabolomic approaches both groups offer to more broadly understand sepsis.
Awards:
Vanderbilt Institute of Chemical Biology Fellowship (2018), Vanderbilt University
Publications:
Jiang W., Chung N.A., May J.C., McLean J.A., Robinson R.A.S. "Ion Mobility-Mass Spectrometry" in Encyclopedia of Analytical Chemistry, Z. Ouyang, Ed. Wiley (in press)
Paharik A.E., Parlet C.P., Chung N.A., Todd D.A., Rodriguez E.I., Van Dyke M.J., Cech N.B., Horswill A.R. Coagulase-Negative Staphylococcal Strain Prevents Staphylococcus aureus Colonization and Skin Infection by Blocking Quorum Sensing, Cell Host Microbe (2017), 22(6):746-756.e5.
---