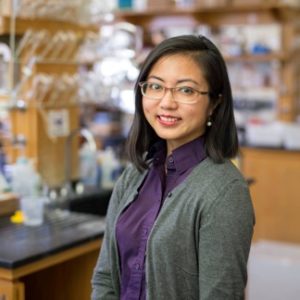 Jaqueline Picache
Graduate Student, The McLean Group

---
University of Notre Dame, IN – B.S. in Chemistry
Background:
Jackie hails from Fort Lee, NJ where she began her research career at the Columbia University Medical Center under Dr. Wesley Gruber. Specifically, she investigated how phosphorylated nucleotides affect dendritic targeting in musculoskeletal tissue from 2008-2011. From there, Jackie attended the University of Notre Dame where she worked under Dr. Holly Goodson to study how the cell cytoskeleton, particular the tubulin network, was altered in colorectal cancer cells. During this tenure, Jackie also did clinical research on the rare disease Niemann-Pick Type C under Dr. Kasturi Haldar. Upon graduation in May 2014, Jackie continued studying rare diseases during an Intramural Research Training Award Fellowship at the National Institutes of Health. Working under Dr. Forbes D. Porter and Dr. Alfred Yergey, Jackie developed a high throughput drug screen using laser diode/thermal desorption mass spectrometry (LDTD-MS) as applied to the rare disease Smith-Lemli-Opitz Syndrome. Jackie joined the McLean lab in January 2017 and is developing a high content, high throughput phenotypic profiling assay for in vitro/vivo systems utilizing fluorescent microscopy and high resolution mass spectrometry.
Awards:
Richard N. Armstrong Prize for Research Excellence in Chemical Biology Research, Runner Up, Vanderbilt Institute of Chemical Biology (August 2019)
ASMS Annual Conference Graduate Student Award, American Society for Mass Spectrometry (June 2019)
First Place, International Poster Award, Analytica Vietnam (March 2019)
ASMS Fall Workshop Travel Award, American Society for Mass Spectrometry (November 2018)
May Institute Student Travel Award, May Institute at Northeastern University (May 2018)
Data Science Visions TIPS Student Travel Award, Vanderbilt University (May 2018)
Vanderbilt Chemistry-Biology Interface Training Award, Vanderbilt Institute for Chemical Biology (July 2018 – present), NIH sponsored V-CBI Training Grant 5T32GM065086
Vanderbilt University Graduate Student Travel Award, Vanderbilt University (June 2017, June 2018, March 2019)
Mitchum Warren Fellowship, Vanderbilt University (August 2016 – June 2017)
Publications:
Picache J.A., Rose B.S., Balinski A., Leaptrot K.L., Sherrod S.D., May J.C., McLean J.A. Collision cross section compendium to annotate and predict multi-omic compound identities, Chem. Sci. 2018, 10(4):983-993.
Nichols C.M., Dodds J.N., Rose B.S., Picache J.A., Morris C.B., Codreanu S.G., May J.C., Sherrod S.D., McLean J.A. Untargeted Molecular Discovery in Primary Metabolism: Collision Cross Section as a Molecular Descriptor in Ion Mobility-Mass Spectrometry, Anal. Chem. 2018, 90(24):14484-14492.
---