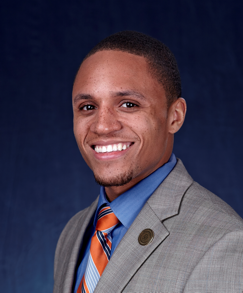 Don E. Davis, Jr.
Graduate Student, The McLean Group

---

Tougaloo College, Mississippi – B.S., Chemistry
Background:
Don Davis is from the heart and soul of the Mississippi Delta, Greenville, MS. He received his B.S. in Chemistry from Tougaloo College in Jackson, Mississippi in May 2015. From 2012 to 2014 he conducted biophysical chemistry research with Dr. Bidisha Sengupta on the interactions of flavonoids and their physiological targets with the goal being to develop phytochemical-based therapeutic drugs that are characterized by their high potency and low systemic toxicity.
Don joined the McLean Lab in Spring 2016 working on translational assay development, such as quantitative methods for clinical panels (e.g. anti-epileptic drugs). Quantitative therapeutic drug management assays using mass spectrometry provide clinical laboratories with a multiplexed, robust, selective, and quantitative protocol for measuring small molecules in human matrices and results will provide clinicians the information necessary to minimize side effects and individually optimize medication dosage. He is also working on untargeted and targeted metabolomics projects for biomarker discovery for various disease states, including delirium.
Awards:
MSACL US Young Investigator Educational Grant (2019), Mass Spectrometry: Applications to the Clinical Lab
Executive board member (Treasurer) of the local chapter for the National Organization for the Professional Advancement of Black Chemists and Chemical Engineers (NOBCChE)
(spring 2018 – present)
Graduate Assistantship in Areas of National Need (GAANN) Fellowship, U.S. Department of Education (August 2015-2016, summer 2017, summer 2018)
Mitchum Warren Fellowship, Vanderbilt University (summer 2015)
Publications:
Bidisha S., Reilly S.M., Davis D.E., Jr., Harris K., Wadkins R.M., Ward D., Gholar D'A., Hampton C., Excited State Proton Transfer of Natural Flavonoids and Their Chromophores in Duplex and Tetraplex DNAs, J. Phys. Chem. B 2015, 119:2546-2556.
Pahari B., Chakraborty S., Sengupta B., Chaudhuri S., Martin W., Taylor J., Henley J., Donald Davis, Biswas P.K., Sharma A.K., Sengupta P.K., Biophysical Characterization of Genistein in Its Natural Carrier Human Hemoglobin Using Spectroscopic and Computational Approaches, Food and Nutrition Sciences 2013, 4:83-92.
---