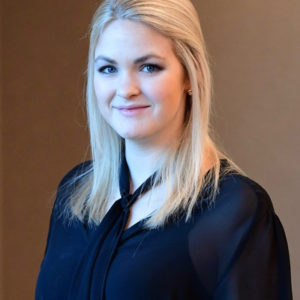 Bailey S. Rose
Graduate Student, The McLean Group

---

Belmont University, TN – B.S., Chemistry
Background:
Bailey is from Cookeville, TN, and graduated with a B.S. in chemistry from Belmont University in 2017. Her undergraduate research involved the application of spectroscopic methods to the investigation of transition metal complexes and ligand exchange kinetics. Since joining the McLean lab in January 2018, her research has been focused around the integration of collision cross section to lipidomics workflows to facilitate the confident annotation of untargeted data.
Awards:
Graduate Student Travel Award (2020), American Society for Mass Spectrometry
Vanderbilt Institute of Chemical Biology Research Fellowship (2018), Vanderbilt University (2018)
Mitchum Warren Fellowship (2017), Vanderbilt University (2017)
Publications:
Picache J.A., Rose B.S., Balinski A., Leaptrot K.L., Sherrod S.D., May J.C., McLean J.A. Collision cross section compendium to annotate and predict multi-omic compound identities, Chem. Sci. 2018, 10(4):983-993.
Nichols C.M., Dodds J.N., Rose B.S., Picache J.A., Morris C.B., Codreanu S.G., May J.C., Sherrod S.D., McLean J.A. Untargeted Molecular Discovery in Primary Metabolism: Collision Cross Section as a Molecular Descriptor in Ion Mobility-Mass Spectrometry, Anal. Chem. 2018, 90(24):14484-14492.
---