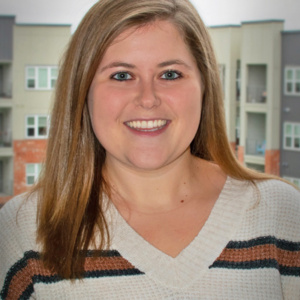 Allison R. Reardon
Graduate Student, The McLean Group

---

Hanover College, IN – B.S. in Chemistry
Background:
Allison is originally from Cincinnati, Ohio. She received her B.S. in Chemistry and a minor in Classical Studies from Hanover College in Hanover, IN. During her undergraduate career, she worked with Dr. Craig Philipp on projects that included applying mechanical stress to raspberries to determine anthocyanin concentration via high-performance liquid chromatography (HPLC) and creating an ion-exchange powder for lead removal in aqueous systems with inductively coupled plasma (ICP) analysis.
She also participated in the research experience for undergraduates at the University of Akron's College of Polymer Science and Engineering in 2019, where she studied under Dr. Hunter King and focused on utilizing stimuli-responsive polymers to passively collect and expel water vapor.
Upon joining the McLean lab, her research now focuses on using ion mobility-mass spectrometry (IM-MS) to fragment polymers and to gather collision cross sections (CCS) for a variety of amines. She has been aiding in the collaboration with MOBILion by collecting data using their prototype high-resolution ion mobility (HRIM) instrument.
Awards:
Mitchum Warren Fellowship, Vanderbilt University (August 2020 – June 2021)
---