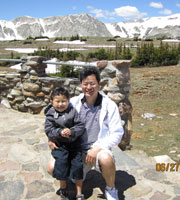 Jun-Song Chen, Ph.D.
Research Assistant Professor, Cell & Developmental Biology

---
Jun-Song Chen was born in China but he came to the USA to pursue his "American dream" after he got his Ph.D. degree in Shanghai. He is studying proteins involved in cell cycle regulation, one of which is the newly identified protein, Nsk1. When not in the lab, his favorite thing to do is taking road trips with his family to look around "Mei Guo" (the Chinese translation for America meaning "beautiful country"), even when he has to carry "a little burden"—his son Roger.
---