Welcome to Monteggia Lab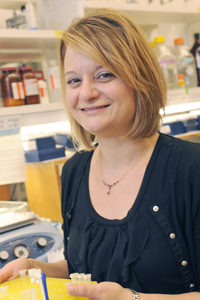 Lisa Monteggia's research interests focus on the molecular and cellular basis of neural plasticity as it pertains to psychiatric disorders. She is working to elucidate the mechanisms underlying antidepressant efficacy. She is also studying the role of MeCP2, the gene linked to Rett syndrome, on synaptic plasticity and behavior. Her research encompasses molecular, cellular, behavioral, biochemical, and electrophysiological approaches.
Dr. Monteggia is currently an associate editor for Neuropsychopharmacology and a member of the editorial boards of Journal of Neuroscience, Journal of Biological Chemistry, and Biological Psychiatry. She also serves on several national advisory and review boards.
She has received several awards for her research, including a Distinguished Investigator Award from NARSAD and the National Alliance for Autism Research, the Daniel X. Freedman Award for outstanding basic research achievement from NARSAD, the Daniel H. Efron Research Award for outstanding basic research contributions from the American College of Neuropsychopharmacology, and the Rising Star Basic Research Award from International Mental Health Research Organization (IMHRO).