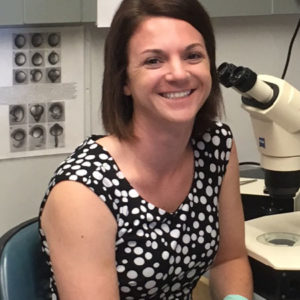 Lauryn Luderman, Ph.D.
Graduate Student, Neuroscience (graduated 2022)
Advanced Imaging Specialist, Nikon Instruments

---
Lauryn is a postdoctoral researcher who graduated from Vanderbilt's Neuroscience Graduate Program in 2022. She obtained her B.S. in Biology with a minor in Psychology from Coastal Carolina University in 2013. After graduation, she worked as a research assistant at the Med. Univ. of South Carolina (MUSC) where she researched drug and alcohol addiction using mice as model species. Lauryn entered Vanderbilt through the Interdisciplinary Graduate Program (IGP) in Fall 2015 and joined the Knapik Lab in Spring 2016. During her rotation in the lab, Lauryn's project involved using CRISPR knock-in techniques to insert a human disease SNP into the zebrafish genome in order to study SNP pathogenicity. Currently, her research involves distinguishing the roles of ERC1 isoforms in membrane trafficking during craniofacial and neuronal development. This work was recently funded as a predoctoral fellowship from NIDCR. Lauryn is also actively researching how ERC1 is functioning during the establishment of neuromuscular junctions during cranial nerve innervation of craniofacial muscles.
---