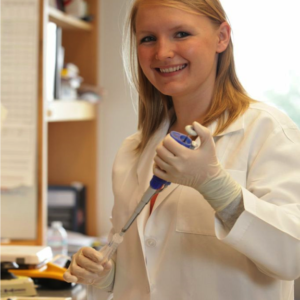 Merla Hubler, PhD
PhD, Molecular Physiology and Biophysics

---
---
Research Description
My project focuses on a population of adipose tissue (AT) macrophages (ATMs) identified by my lab as a "MFehi" sub-population of M2 ATMs, which a two-fold increase in intracellular iron content and increased expression of genes involved in iron uptake (e.g. CD163), storage and release. These macrophages compose 25% of M2 ATMs in lean AT and also exist in obese mouse and human AT. Previous studies demonstrated adipocytes require iron for adipogenesis, but excess iron is cytotoxic and leads to systemic insulin resistance. Therefore, healthy adipocytes must maintain a narrow range of intracellular iron concentrations. Primarily, my project will determine whether MFehi ATMs influence adipocyte iron homeostasis. We hypothesize MFehi ATMs modulate iron availability to adipocytes, and this regulation can be negatively impacted by inflammation, reducing insulin sensitivity by increased adipocyte iron content. My project will characterize the role of the MFehi population in maintaining healthy adipocyte iron concentrations and insulin sensitivity.
---
Selected Publications
Hubler MJ , Erikson KM , Kennedy AJ , Hasty AH , MFehi adipose tissue macrophages compensate for tissue iron pertubations in mice American Journal of Physiology Cell Physiology. 2018 May 16;
Bolus WR , Peterson KR , Hubler MJ , Kennedy AJ , Gruen ML , Hasty AH , Elevating adipose eosinophils in obese mice to physiologically normal levels does not rescue metabol… Molecular metabolism. 2017 Dec 16;
Orr JS , Kennedy AJ , Hill AA , Anderson-Baucum EK , Hubler MJ , Hasty AH , CC-chemokine receptor 7 (CCR7) deficiency alters adipose tissue leukocyte populations in mice. Physiological reports. 2016 Sep ; 4 (18).
Hubler MJ , Peterson KR , Hasty AH , Iron homeostasis: a new job for macrophages in adipose tissue?Trends in endocrinology and metabolism: TEM. 2015 Jan 16;
---