Former Lab Members
The following are former members of Dr. Marnett's labs at Wayne State University and Vanderbilt University.
Lab Manager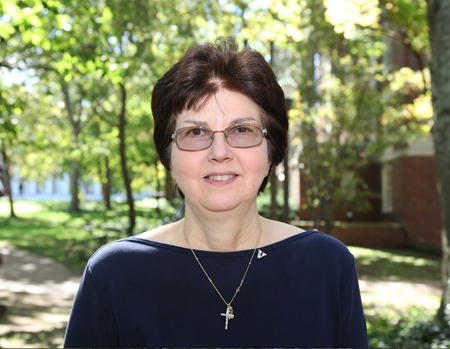 Brenda Crews  1949-2022
Graduate Degrees Directed
Ph.D.
William R. Pagels, Ph.D., 1981
"The Peroxidase Activity of Prostaglandin Endoperoxide Synthetase"
(Co-Chairman / Chief Scientific Officer at ApolloDx)
Gregory A. Reed, Ph.D., 1981
"Metabolism and Activation of Benzo[a]pyrene and Benzo-Ring Derivatives  During Prostaglandin Biosynthesis"
(Associate Professor of Pharmacology and Toxicology, University of Kansas Medical School)
Thomas Dix, Ph.D., 1983
"The Mechanism of the Fatty Acid Hydroperoxide  Dependent-Epoxidation of 7,8-Dihydroxy-7,8-Dihydrobenzo[a]pyrene"
(Associate Professor of Medicinal Chemistry, Medical University of South Carolina-Charleston / CSO Halimed Pharmaceuticals, Inc.)
Ashis K. Basu, Ph.D., 1984
"Studies on the Mutagenicity of Malondialdehyde and Related Compounds"
(Professor of Chemistry, University of Connecticut)
Paul E. Weller, Ph. D., 1985
"Chemical and Enzymatic Transformations of 5-Phenyl-4-Pentenyl-1-Hydroperoxide"
(Senior Research Scientist, Roche Biosciences)
John R. Battista, Ph.D.,1986
"The Role of Hydroperoxide-Dependent Oxidations in the Metabolic Activation of Chemical Carcinogens"
(May Lou Applewhite Professor of Biological Sciences, Louisiana State University)
Arthur W. Bull, Ph.D., 1986
"Lipid Peroxidation and Intestinal Carcinogenesis: Structure-Activity Relationships and Analytical Methods"
(Professor of Chemistry, Oakland University)
Victor M. Samokyszyn, Ph.D., 1987
"Oxidation of 13-Cis-Retinoic Acid by Iron-Oxo Intermediates of Prostaglandin H Synthase and Unsaturated Fatty Acid-Derived Peroxyl Radicals"
(Deceased)
Regine Labeque, Ph.D., 1988
"Reaction of Allylic Hydroperoxides With Metals and Metalloproteins"
(Research Scientist, Proctor & Gamble – Belgium)
Christine M. Markey Parcells, Ph.D., 1988
"Interaction of the Peroxidase and Cyclooxygenase Activities of Prostaglandin H Synthase: Characterization of the Peroxidase"
(Physician, Grosse Pointe Michigan)
S. Mark O'Hara, Ph. D., 1988
"Studies on the Reaction of β- Alkoxy-Acroleins With Guanine Nucleosides and Frameshift Mutagenesis in Salmonella typhimurium hisD3052"
(Director of Molecular Assays, RPS Diagnostics, Philadelphia)
Patrick Plé, Ph.D., 1988
"Structure-Activity Studies of Alkyl Aryl Sulfides and Related Compounds as Reducing Substrates for the Peroxidase Activity of Prostaglandin H Synthase"
(Research Scientist, Astra-Zeneca Pharmaceuticals – France)
Ying Nan Pan Chen, Ph.D., 1988
Studies on the Structure and Function of Prostaglandin H Synthase
(Research Scientist, Novartis Pharmaceuticals)
Koni K. Stone, Ph.D., 1990
Studies of the Reaction of Malondialdehyde with Nucleosides
(Professor of Chemistry, California State University, Stanislaus)
Ashok Reddy, Ph.D., 1990
Separation of (+)-Syn and (-)-Anti-Benzo[a]pyrene Dihydrodiolepoxide-DNA Adducts in [32P]-Postlabeling Analysis: Application to the Study of Pathways of Benzo[a]pyrene Metabolism in Mouse Skin In Vivo
(Associate Director, Oregon Health and Science University)
Rebecca Odenwaller, Ph.D., 1991
Studies on the Role of the Peroxidase of Prostaglandin H Synthase in Its Cyclooxygenase Reaction"
Mounir Benamira, Ph.D., 1992
Mutagenesis by Malondialdehyde. Random and Site-Specific Approaches to the Role of Individual DNA Adducts
(Chief Executive Officer, Genosphere Biotechnologies, Paris, France)
Isabelle Wells, Ph.D., 1992
Chemical Modification of Prostaglandin H Synthase by N-Acetylimidazole and Reactive Indomethacin Derivatives
(Bioinformatician, Roche, Switzerland)
Marie-Christine Chapeau, Ph.D., 1992
Strategies for Construction of Carcinogen Adducts of Deoxynucleosides
(Instructor, ZHAW-Zurich)
Christopher J. Smith, Ph.D., 1995
Cysteines and Prostaglandin Endoperoxide Synthase Catalysis
(Consultant)
Kristin A. Johnson, Ph.D., 1995
Genetic Requirements for Mutagenesis by Malondialdehyde
Karen M. Richards, Ph.D., 1996
The Mechanism of Inhibition of Leukocyte 12-Lipoxygenase by the Oxaacetylenic Acid J-GG-199
(Associate Director, Alliance Management at Bristol-Meyers Squibb, Philadelphia)
Laura J. Niedernhofer, Ph.D., 1996; M.D., 1998
The Mutagenicity of Malondialdehyde in Human Cells: Evidence for a Novel DNA Lesion
(Associate Professor of Metabolism and Aging, Scripps Research Institute, Florida)
Stephen P. Fink, Ph.D., 1997
Mutagenicity and Repair of the Major DNA Adduct Derived from the Endogenous Mutagen, Malondialdehyde
(Assistant Professor, Case Western Reserve University)
Cheryl A. Lanzo (Deguara), Ph.D., 1998
Investigation of the Binding of Cyclooxygenase-Selective Inhibitors by Fluorescence Spectroscopy
(Director Global Market Development and Clinical Research, Cutera, Inc.)
John P. Plastaras, Ph.D., 2000; M.D. 2002
DNA Adduct Formation by Malondialdehyde and Structurally Related Compounds
John Coniglio Award for Outstanding Performance in Biochemistry
(Associate Professor of Radiation Oncology at the Hospital of the University of Pennsylvania)
John S. Moody, Ph.D., 2000; M.D., 2002
Characterization of Selective Substrates and Inhibitors of 12-Lipoxygenase
(Radiologist, Oncologist Specialist, Greensboro, NC)
Kevin R. Kozak, Ph.D., 2001; M.D., 2003
Roles for Cyclooxygenase-2 and Lipoxygenases in the Endogenous Cannabinoid System and in the Generation of Novel Prostaglandin- and HETE-Like Lipids
Leon Cunnngham Award as Outstanding Graduate Student in Biochemistry, 2000
Frist Scholar, 2003
John Coniglio Award as Outstanding Performance in Biochemistry, 2003
Founders Medal as Outstanding Student in Graduating Medical School Class, 2003
(Radiation Oncologist, Mercy Health System, Madison, Wisconsin)
James N. Riggins, Ph.D., 2003
Kinetic and Thermodynamic Characterization of the Ring-Opening and Ring-Closing Recations of the Principle Malondialdehyde-Deoxyguanosine Adducts 2'Deoxyribosyl-Pyrimido[1,2α]Purin-10(3H)-One and N2-(3-Oxo-1-Propenyl)-Deoxyguanosine
(Staff Scientist, Codexis, Pasedena, CA)
Jeffery J. Prusakiwiecz, Ph.D., 2004
Molecular and Kinetic Determinants of Cyclooxygenase-2 Selective Substrate Metabolism and Inhibition"
Leon Cunnngham Award as Outstanding Graduate Student in Biochemistry, 2002
(Study Director, Drug Metabolism, Covance Laboratories)
Laurie A. VanderVeen, Ph.D., 2004
Molecular Recognition and Mutagenesis of the Major DNA Adducts of Two Lipid Peroxidation Products, Malondialdhyde and Acrolein
(Scientist, Nektar Therapeutics)
James West, Ph.D., 2004
Cellular Responses to 4-Hydroxy2-nonenal and Structurally Related Products of Lipid Peroxidation
(Assistant Professor of Chemistry and Assistant Professor of Biology, College of Wooster)
Alexandra Druckova, 2007
Characterization of Aminoi Acid Adducts of the Toxic Furan-Containing Natural Product, Teucrin A, Activated In Vitro and Identification of the Protein Targets of its Reactive Metabolite(s) In Vivo
(Senior Research Chemist, Abbvie)
Jennifer Stafford, 2007
Mechanisms of Prostaglandin E2-Mediated Repression of Lipopolysaccharide-Induced Tumor Necrosis Factor-Alpha Biosynthesis
Andrew Felts, 2007
Imparting COX-2 Selectivity and Exploring Off-Target Effects of NSAIDs: The Importance of Bearing Methyl
(Staff Scientist, Center in Neuroscience Drug Discovery, Vanderbilt University)
Charles Knutson, 2008
Oxidative Metabolism of Exocyclic DNA Adducts
(Research Associate, Massachusetts Institute of Technology)
Mary Konkle, 2008
Indomethacin-Amides as Molecular Scaffolds to Investigate the Structure and Function of Cyclooxygenases, Thromboxane Synthase, and Sterol 14α-Demethylase from Trypanosoma cruzi
(Assistant Professor of Chemistry, Eastern Illinois University)
Melissa (Turman) Vaught, 2008
Director of Research Development at Institute of Translational Health Sciences
Seattle, Washington LinkedIn
Joel Musee, 2010
Determinants of Cyclooxygenase-2-Mediated Oxidative Metabolism of the Endocannabinoid, 2-Arachidonoyl Glycerol, in Vitro and ex Vivo
(Resident in Anesthesiology, Vanderbilt University School of Medicine)
Kelsey C. Duggan, 2010
Structural and Functional Analysis of Cyclooxygenase-2 Inhibition by Non-Steroidal Anti-Inflammatory Drugs
(Account Director, InVivo Link)
Daniel J. Hermanson, 2014
Substrate-Selective Inhibition of Cyclooxygenase-2: Molecular Determinants, Probe Development, and In Vivo Effects
(Research Associate, Scripps Research Institute)
Joseph D. Manna, 2014
Identification and Characterization of the Major Prostaglandin Glycerol Ester Hydrolase in Human Cancer Cells
(Scientist I, Celgene)
William N. Beavers, 2015
Omega-Alkynyl Fatty Acids: Surrogates to Study Protein Adduction by Endogenously Generated Lipid Electrophiles
(Assistant Professor of Infectious Diseases @LSUVetMed Pathobiological Sciences)
Jeannie Camarillo, 2016
Postdoctoral Research Fellow, Northwestern University
Michelle Mitchener, 2017
Postdoctoral Research Associate, Muir Lab, Princeton University
Michael Goodman, 2018
Staff Scientist, Sanders Lab, Vanderbilt University
James Wepy, 2018
Principal Scientist, Pfizer
M.S.
Michael Bienkowski, M.S., 1980
"Oxygen-18 Investigation of the Arachidonic Acid Dependent-Cooxygenation of Xenobiotics"
(Manager, Process and Analytical Development, SAFC Pharma)
Robert M. Prust, M.S., 1981
"Test for the Intermediacy of 11-Hydroperoxy-Arachidonic Acid in Prostaglandin Biosynthesis"
(Radiation Oncologist, Traverse City Michigan)
Jeffrey Wilhelm, M.S., 1986
"The Cooxidation of Nafazatrom by Prostaglandin H Synthase"
(Director, Development & Analytical Services, Catalent Pharma Solutions)
Alister George, M.S., 1987
"A Method for In Situ Generation of Prostaglandin H2"
(Physician, Irvine California)
Kathryn Carolin Amirikia, M.D., FACS, M.S., 1989
"Synthesis of Site-Specific 1,N2Ethenodeoxyguanosine in a Small Oligonucleotide"
(Associate Physicidan Diplomate, Surgical Oncology, UC Davis Comprehensive Cancer Center)
Donald C. Laudicina, M.S., 1989
"Synergistic Stimulation of Lipid Peroxidation by Organic Hydroperoxides and Ascorbate"
(Research Scientist, Schering-Plough)
David M. Ferguson, M.S., 1996
"Determination of Malondialdehyde Deoxyguanosine Adduct in Human Urine"
(Special Agent Forensic Scientist II, Tennessee Bureau of Investigation)
Michelle L. Mierzwa, M.S., 1999
"Repair of the Major Adduct Derived from the Endogenous Mutagen, Malondialdehyde"
(Radiation Oncology Specialist, Ann Arbor, MI)
G. Phillip Hochgesang, Jr., M.S., 2000
"Investigation of the Interaction of Small Molecule Inhibitors of Cyclooxygenase-2 With the Enzyme"
(Project Engineer, ArcelorMittal, Indiana Harbor, Indiana)
M.A.
Nancy DeSantis, M.A., 1988
(Patent Attorney, San Francisco, California)
Postdoctoral Associates Trained
Augustine Panthananickal, 1979-1983
(Ph.D., 1974, University of Detroit)
Research Scientist, Pittsburgh Plate and Glass
Mukul Das, 1983-1984
(Ph.D., 1982, Kanpur University)
Research Scientist, Industrial Toxicology Research Center – India
Donna Pruess-Schwartz, 1986-1988
(Ph.D., 1986, Purdue University)
Colleen Y. O'Gara, 1986-1989
(Ph.D., 1986, Clark University)
Krishna Rao Maddipati, 1986-1989
(Ph.D., 1983, Indian Institute of Science)
Assistant Professor, Wayne State University
Allan L. Wilcox, 1989-1991
(Ph.D., 1989, University of Missouri)
Consultant
Udai S. Singh, 1989-1991
(Ph.D., University of Virginia)
Professor of Mechanical Engineering, Gannon University
Chuan Ji, 1989-1993
(M.D., 1962, Beijing University of Medical Sciences)
Marc Girardet, 1990-1991
(Ph.D., 1990, CNRS – France)
Lab Manager, Novartis Crop Protection – Switzerland
Peter D. Gorycki, 1990-1992
(Ph.D., 1990, University of Virginia)
Section Leader, Biotransformation and Drug Disposition, GlaxoSmithKline
Philip C. Burcham, 1990-1993
(Ph.D., 1990, University of Western Australia)
Professor of Pharmacology, University of Western Australia
G. Ramachandra Reddy, 1990-1993
(Ph.D., 1989, S.V. University – India)
Research Scientist, Molecular Therapeutics
Todd A. Kennedy, 1991-1994
(Ph.D., 1991, University of Arizona)
Research Associate, W.L. Gore & Associates Inc.
G. Ramesh Reddy, 1991-1994
(Ph.D., 1988, S.V. University – India)
Senior Engineer, Global ERP Center of Excellence
Amit S. Kalgutkar, 1993-1999
(Ph.D., 1993, Virginia Polytechnic Institute & State University)
Research Fellow, Pfizer
Muhammed F. Hashim, 1993-1999
Deceased
Lisa M. Landino, 1994-1997
(Ph.D., 1994, University of Virginia)
Garrett-Robb-Guy Professor of Chemistry, College of William and Mary
Nathalie Schnetz-Boutaud, 1994-1998
(Ph.D., 1994, University Louis Pasteur Strasbourg – France)
Laboratory Manager, Center in Neuroscience Drug Discovery, Vanderbilt University
Peter Scholl, 1996-1997
(Ph.D., 1996, Johns Hopkins University)
Staff Scientist,  Johns Hopkins University
Douglas Goodwin, 1996-1999
(Ph.D., 1996, Utah State University)
Associate Professor, Biochemistry, Auburn University
Scott Rowlinson, 1997-1999
(Ph.D., 1994, University of Queensland – Australia)
Principal Research Scientist, Eli Lilly and Company
John S. Daniels, 1998-2000
(Ph.D., 1998, University of Missouri-Columbia)
Assistant Professor of Pharmacology, Vanderbilt University School of Medicine
Michael B. Otteneder, 1999-2000
(Ph.D., 1999, University of Wurzburg – Germany)
Head of Pharmacokinetics / Head of PK Leads Biologics, Roche
Sergei Timofeevski, 1999-2001
(Ph.D., 1999, Utah State University)
Senior Principle Scientist, Pfizer
Chaitanya Nirodi, 2001-2003
Associate Professor of Oncological Sciences, University of South Alabama
Daniel Prudhomme, 2002-2004
(Ph.D., 2002, Vanderbilt University)
President, Parallel Dimension Consulting
Aaron Jacobs, 2003-2009
(Ph.D., 2002, University of California, Los Angeles)
Associate Professor of Pharmacology, California University of Science and Medicine
Zahra Mir-Afzali, 2003-2005
(Ph.D., 2003, Michigan State University)
Chief Executive Officer, Encapsula Nano Sciences
Andrew Vila, 2003-2008
(Ph.D., 2003, University of Wisconsin – Milwaukee)
Scientist, Cumberland Pharmaceuticals
Robyn Ritchie-Janetta, 2004-2011
(Ph.D,. 2004, Vanderbilt University)
Instructor, Austin Peay State University
M. Jashim Uddin, 2004-present
(Ph.D., 2002, Shinsu University)
Research Assistant Professor of Biochemistry, Vanderbilt University
Anna Blobaum, 2005-2010
(Ph.D., 2004, University of Michigan)
Research Assistant Professor of Pharmacology, Center for Neuroscience Drug Discovery, Vanderbilt University School of Medicine
Muhammed Kalam, 2005-2007
(Ph.D., 2005, University of Connecticut)
Associate Professsor of Chemistry, Sul Ross State University
Colleen (McGrath) Lawrence, 2007-2011
(Ph.D., 2007, Cornell University)
Research Services Consultant III, Vanderbilt Institute for Clinical and Translational Research (VICTR)
Vanderbilt University School of Medicine
Leena Maddukuri, 2007-2009
(Ph.D., 2007, Polish Academy of Sciences)
Research Scientist/Instructor, University of Arkansas for Medical Sciences
Matthew Walters, 2008-2010
(Ph.D., 2008, Duke University)
Chemistry Branch Chief, Food and Drug Administration
Andy Liedtke, 2009-2012
(Ph.D., 2008, University of Tubingen)
Inspector for the Surveillance of Medical Devices at the National Authority in Baden-Wuerttemberg
Mariana Boiani, 2009-2012
(Ph.D., 2008, Universidad de la Republica)
Directora de I+D at UTEC – Universidad Tecnológica del Uruguay
Jody Ullery Cantu, 2009-2012
(Ph.D., 2009, Vanderbilt University)
Principal Scientist, General Dynamics Information Technology
Christopher Aluise, 2010-2013
(Ph.D., 2010, University of Kentucky)
Senior Scientist, Eli Lilly
Matthew Windsor, 2011 – 2013  @MWindsorPhD
(Ph.D., 2010, University of Wisconsin)
#SciComm professional for @SfNtweets. Formerly @arvoinfo
. Tweets my own.Senior Manager of Science Communications at Association For Research in Vision & Ophthalmology (ARVO)
Sarah Shuck, 2010-2014
(Ph.D., 2010, Indiana University)
Assistant Research Professor of Molecular Medicine in the Beckman Research Institute at City of Hope Research Institute
Yuuki Shimozu, 2011 – 2014
(Ph.D., 2011, Nagoya University)
Assistant Professor of Pharmaceutical Sciences, Okayama University
Shalley Kudalkar, 2012 – 2015
(Ph.D. 2012, Auburn University)
Postdoctoral Associate, Yale School of Medicine, Department of Pharmacology
Amanda May, 2014 – 2016
(Ph.D. 2013, University of Tennessee)
UDS Lab Manager/Chief Technician, University Center for Pain Management at Knoxville
Orrette Wauchope, 2012 – 2017
(Ph.D. 2012, University of Maryland)
Assistant Professor of Chemistry, Baruch College, City University of New York
Shu Xu, 2012 – 2017
(Ph.D., 2011, University of Toledo)
Vanderbilt Institute for Clinical and Translational Research
James Galligan, 2015 – 2018
(Ph.D., 2012, University of Colorado)
Assistant Professor, Department of Pharmacology and Toxicology, University of Arizona
Imam Uddin, 2014-2018
(Ph.D., 2008, Kochi University, Japan)
Assistant Professor, Department of Ophthalmology & Visual Sciences
Assistant Professor, Biomedical Engineering