Trevor Trombley
Research Assistant I
B.S.
UC Berkeley, 2018
Chemistry
Phone: (615) 322-7415
Fax: (615) 778-1414
Email: trevor.a.trombley@vanderbilt.edu
Location: Cool Springs Innovation Park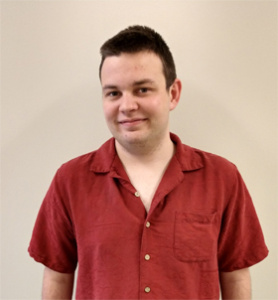 Mailing Address:

Vanderbilt University/VCNDD
Cool Springs Innovation Park
393 Nichol Mill Lane, Room 1000
Franklin, TN 37067
Biosketch and Research Interests
Trevor first became interested in medicinal chemistry as a result of his research on the extraction and isolation of natural products under Dr. Dan Edwards at CSU Chico. He then went on to obtain a B.S. in Chemistry at UC Berkeley in just 3 short years, before joining the VCNDD to work on mGluR1 PAM.
Trevor plans on pursuing a Ph.D. in organic synthesis in the near future.
Selected Publications
Trombley, T.A.; Capstick, R.A.; Lindsley, C.W. 'DARK Classics in Chemical Neuroscience: Gamma-Hydroxybutyrate (GHB)' ACS Chemical Neuroscience (2019); [Epub ahead of print]. {DOI: 10.1021/acschemneuro.9b00336; PMID: 31287661}