Matt Mulder
Drug Discovery Scientist II
B.S.
Calvin College, 1999
Environmental Sciences, Chemistry Emphasis
Phone: (615) 322-7415
Fax: (615) 778-1414
Email: matthew.mulder@vanderbilt.edu
Location: Cool Springs Innovation Park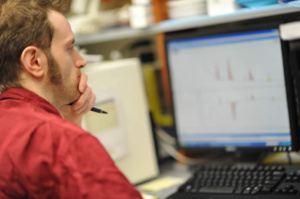 Mailing Address:

Vanderbilt University/VCNDD
Cool Springs Innovation Park
393 Nichol Mill Lane, Room 1000
Franklin, TN 37067
Biosketch and Research Interests
Matt, no relation to Agent Fox Mulder, is a Drug Discovery Scientist who joined the Lindsley Laboratory in December of 2006. His specialty is analytical chemistry. Matt is responsible for the knowledge and maintenance of the analytical instrumentation in the lab (including, but not necessarily limited to: mass directed preparative LCMS, analytical LCMS, chiral LCMS, Q-Tof, ULPC, microwave synthesizers, as well as other various lab instrumentation). As of late, Matt has also been responsible for maintaining the labs website, and everything SharePoint.
He obtained his degree in Environmental Sciences/Environmental Chemistry at Calvin College in Grand Rapids Michigan. Since graduating, he has spent time working in environmental labs, and pharmaceutical manufacturing quality control labs.
Besides working in the Lindsley lab, Matt has also spent time in both the DMPK (Drug Metabolism Pharmacokinetics) and Behaviorial Pharmacology labs, helping them set-up/optimize/bring in house various methods and instrumentation.
Selected Publications
Doiron J.E.; Le C.A.; Ody B.K.; Brace J.B.; Post S.J.; Thacker N.L.; Hill H.M.; Breton G.W.; Mulder M.J.; Chang S.; Bridges T.M.; Tang L.; Wang W.; Rowe S.M.; Aller S.G.; Turlington M. 'Evaluation of 1,2,3-Triazoles as Amide Bioisosteres In Cystic Fibrosis Transmembrane Conductance Regulator Modulators VX-770 and VX-809' Chemistry (2019); 25(14): 3662-3674. {DOI: 10.1002/chem.201805919; PMID: 30650214}
Smith, B.J.; Qu, T.; Mulder, M.J.; Noetzel, M.J.; Lindsley, C.W.; Sulikowski, G. 'Synthesis and bioactivity of (±)-tetrahydrohaliclonacyclamine A' Tetrahedron (2010); 66(26): 4805-4810. {DOI: 10.1016/j.tet.2010.03.117}
Weaver, C.D.; Sheffler, D.J.; Lewis, L.M.; Bridges. T.M.; Williams, R.; Nalywajko, N.T.; Kennedy, J.P.; Mulder, M.J.; Jadhav, S.; Aldrich, L.A.; Jones, C.K.; Marlo, J.E.; Niswender, C.M.; Mock, M.M.; Zheng, F.; Conn, P.J.; Lindsley, C.W. 'Discovery and development of a potent and highly selective small molecule muscarinic acetylcholine receptor subtype I (mAChR1 or M1) antagonist in vitro and in vivo probe' Current Topics in Medicinal Chemistry (2009); 9(13): 1217-1226. {DOI: 10.2174/156802609789753635; PMID: 19807667}
Lewis, L.M.; Sheffler, D.; Williams, R.; Bridges, T.M.; Kennedy, J.P.; Brogan, J.T.; Mulder, M.J.; Williams, L.; Nalywajko, N.T.; Niswender, C.; Weaver, C.D.; Conn, P.J.; Lindsley, C.W. 'Synthesis and SAR of selective muscarinic acetylcholine receptor subtype 1 (M1 mAChR) antagonists' Bioorganic & Medicinal Chemistry Letters (2008); 18(3): 885-890. {DOI: 10.1016/j.bmcl.2007.12.051; PMID: 18178088}