Kwaku Kyei-Baffour, Ph.D.
Postdoctoral Research Fellow
B.S.
University of Ghana, 2009
Chemistry
M.S.
Youngstown State University, 2014
Chemistry
Ph.D.
Purdue University, 2019
Organic Chemistry
Phone: (615) 322-7415
Fax: (615) 778-1414
Email: kwaku.kyei-baffour@vanderbilt.edu
Location: Cool Springs Innovation Park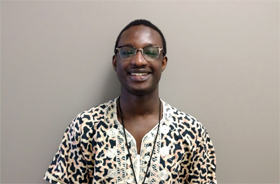 Mailing Address:

Vanderbilt University/VCNDD
Cool Springs Innovation Park
393 Nichol Mill Lane, Room 1001
Franklin, TN 37067
Biosketch and Research Interests
Kwaku, a native of Ghana, obtained his bachelor of science in Chemistry with Honors from the University of Ghana.
In 2014, after obtaining his master of science in Chemistry from Youngstown State University in Ohio, Kwaku matriculated to Purdue University to pursue his doctoral studies. While at Purdue, he worked on the discovery of novel antimicrobial agents, and the total synthesis of 17-nor-Excelsinidine under the guidance of Prof. Mingji Dai. He earned his Ph.D. from Purdue University in 2019.
Kwaku joined the Lindsley lab as a Postdoctoral research fellow in June 2019, and is currently working on developing novel positive allosteric modulators for the metabotropic glutamate receptor mGluR1.
Kwaku's research interests include medicinal chemistry, particularly the development of novel therapeutics for CNS disorders, and synthetic organic chemistry.
Selected Publications
Kyei-Baffour, K.; Mohammad, H.; Seleem, M.N.; Dai, M. 'Second-generation aryl isonitrile compounds targeting multidrug-resistant Staphylococcus aureus' Bioorganic & Medicinal Chemistry (2019); 27(9): 1845-1854. {DOI: 10.1016/j.bmc.2019.03.034; PMID: 30926310}
Mohammad, H.; Kyei-Baffour, K.; Abutaleb, N.S.; Dai, M.; Seleem, M.N. 'An aryl isonitrile compound with an improved physicochemical profile that is effective in two mouse models of multidrug-resistant Staphylococcus aureus infection' Journal of Global Antimicrobial Resistance (2019); 19: 1-7. {DOI: 10.1016/j.jgar.2019.04.016; PMID: 31051286}
Mohammad, H.; Kyei-Baffour, K.; Younis, W.; Davis, D.C.; Eldesouky, H.; Seleem, M.N.; Dai, M. 'Investigation of aryl isonitrile compounds with potent, broad-spectrum antifungal activity' Bioorganic & Medicinal Chemistry (2017); 25(11): 2926-2931. {DOI: 10.1016/j.bmc.2017.03.035; PMID: 28385596}
Davis, D.C.; Mohammad, H.; Kyei-Baffour, K.; Younis, W.; Creemer, C.N.; Seleem, M.N.; Dai, M. 'Discovery and characterization of aryl isonitriles as a new class of compounds versus methicillin- and vancomycin-resistant Staphylococcus aureus' European Journal of Medicinal Chemistry (2015); 101: 384-390. {DOI: 10.1016/j.ejmech.2015.06.031; PMID: 26164843}