Kristen Gilliland-Meisenheimer, Ph.D.
Visiting Associate Professor
B.S.
California Polytechnic State University, 1992
Biochemistry
Ph.D.
University of Colorado, 1998
Organic Chemistry
Phone: (615) 322-7415
Fax: (615) 778-1414
Email: kristen.gilliland-meisenheimer@vanderbilt.edu
Location: Cool Springs Innovation Park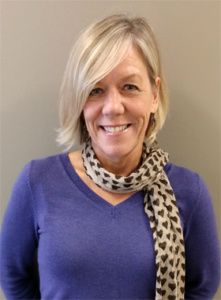 Mailing Address:

Vanderbilt University/VCNDD
Cool Springs Innovation Park
393 Nichol Mill Lane, Room 1001
Franklin, TN 37067
Biosketch and Research Interests
Kristen earned her Ph.D. in Organic Chemistry from the University of Colorado, Boulder under the direction of Professor Tad H. Koch. In the Koch lab, her research utilized nucleoprotein photo-crosslinking to study RNA-protein interactions.
After Boulder, Kristen served as an Assistant Professor of Chemistry at Angelo State University, Texas for two years before returning to her alma mater Cal Poly, San Luis Obispo in the fall of 2000. After nine years as a lecturer, she joined the Cal Poly faculty as a tenure track professor, and was recently promoted to Associate Professor.
Kristen's research interests involve the synthesis of substituted indole derivatives known to inhibit bacteria biofilm formation. She is also highly passionate about teaching the Organic Chemistry series, Chemistry of Drugs and Poisons, and Neurochemistry.
Kristen has joined the Lindsley lab as part of yearlong sabbatical from Cal Poly, and when not making new molecules, she enjoys writing music and fronting her rock-n-roll band The Kristen Black Band.