Jinming Li, Ph.D.
Postdoctoral Research Fellow
B.S.
Tianjin University, 2010
Pharmaceutical Sciences
M.S.
Tianjin University, 2013
Medicinal Chemistry
Ph.D.
Oregon State Univeristy, 2019
Organic Chemistry
Phone: (615) 322-7415
Fax: (615) 778-1414
Email: jinming.li@vanderbilt.edu
Location: Cool Springs Innovation Park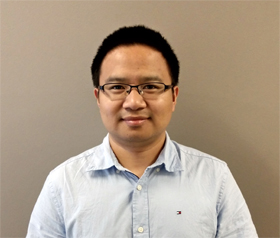 Mailing Address:

Vanderbilt University/VCNDD
Cool Springs Innovation Park
393 Nichol Mill Lane, Room 1001
Franklin, TN 37067
Biosketch and Research Interests
Jinming earned his Ph.D. in organic chemistry from Oregon State University in 2019 under the direction of Professor Rich G. Carter. His research focused on the total synthesis of mandelalide A, madeirolide A and their related macrolide analogs.
Jinming joined the Lindsley lab as a postdoctoral research fellow in August 2019. He is currently working on the synthesis of negative allosteric modulators (NAMs) for the muscarinic acetylcholine receptor M5.
Jinming's research interests include medicinal chemistry, organic synthesis and drug discovery.
Selected Publications
Watanabe, K.; Li, J.; Veerasamy, N.; Ghosh, A.; Carter, R.G. 'Stereoselective, Ag-Catalyzed Cyclizations To Access Polysubstituted Pyran Ring Systems: Synthesis of C1-C12 Subunit of Madeirolide A' Organic Letters (2016); 18(8): 1744-1747. {DOI: 10.1021/acs.orglett.6b00414; PMID: 27031993}
Veerasamy, N.; Ghosh, A.; Li, J.; Watanabe, K.; Serrill, J.D.; Ishmael, J.E.; McPhail, K.L.; Carter, R.G. 'Enantioselective Total Synthesis of Mandelalide A and Isomandelalide A: Discovery of a Cytotoxic Ring-Expanded Isomer' Journal of the American Chemical Society (2016); 138(3): 770-773. {DOI: 10.1021/jacs.5b12318; PMID: 26759923}
Li, J.; Chen, H.; Zhang-Negrerie, D.; Du, Y.; Zhao, K. 'Synthesis of coumarins via PIDA/I2-mediated oxidative cyclization of substituted phenylacrylic acids' RCS Advances (2013); 13: 4311-4320. {DOI: 10.1039/C3RA23188G}