Bruce J. Melancon, Ph.D.
Research Assistant Professor |
Associate Director of Medicinal Chemistry
B.S.
Louisiana State University, 2002
Chemistry
Ph.D.
University of Notre Dame, 2008
Organic Chemistry
Vanderbilt University, 2010
NIH Postdoctoral Fellow
Phone: (615) 343-4592
Fax: (615) 778-1414
Email: bruce.melancon@vanderbilt.edu
Location: Cool Springs Innovation Park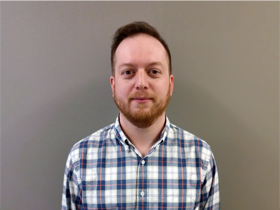 Mailing Address:

Vanderbilt University/VCNDD
1205 Light Hall
Nashville, TN 37232-0697
Biosketch and Research Interests
Bruce is a Research Assistant Professor of Pharmacology in the School of Medicine and an Associate Director of Medicinal Chemistry in the Vanderbilt Center for Neuroscience Drug Discovery. Bruce serves as Editor in Chief of 
ASSAY and Drug Development Technologies
 (a Mary Ann Liebert, Inc. journal). His areas of expertise include medicinal chemistry, chemical methodology development, natural product synthesis, hit-to-lead, and lead optimization. The theme of his research in the areas of medicinal chemistry and drug discovery has been the development of small molecules which target G-protein coupled receptors (GPCRs) with high levels of specificity, affinity and potency for the GPCR of interest.
Bruce received his B.S. in Chemistry from Louisiana State University with Professor Robert M. Strongin while working on the synthesis of resorcinarene chromophores as sensors for mono- and oligosaccharides. He received his Ph.D. in Organic Chemistry from the University of Notre Dame under the direction of Professor Richard E. Taylor. He developed novel cationic cyclopropanation reactions with high enantiospecificity from enantiomerically enriched sulfonate intermediates. He also investigated biomimetic approaches to cyclopropanes found in polyketide natural products. After successful completion of his Ph.D., he moved to Vanderbilt University to begin postdoctoral studies under Professor Gary A. Sulikowski. He was awarded an NIH fellowship through the Vanderbilt Institute of Chemical Biology to develop novel small molecule inhibitors of the Wnt signaling pathway as it relates to colorectal cancer. Additionally, he synthesized new apoptolidin-rhodamine conjugates to elucidate the biological target of apoptolidin A.
In 2010, Bruce moved to the VCNDD as a drug discovery scientist and worked on the development of novel small molecule PAMs of the M1 and M4 muscarinic receptors for the treatment of Alzheimer's disease and schizophrenia. In 2015, Bruce accepted a position as a Research Assistant Professor in the Department of Chemistry & Biochemistry and Director of the Chemical Synthesis and Drug Discovery Facility at the University of Notre Dame. While at UND, he also served as Notre Dame Research Navigator for the Indiana Clinical and Translational Sciences Institute, an NIH NCATS CTSA awarded to the Indiana University School of Medicine (ICTSI NIH/NCRR Grant Number UL1TR001108). In 2019, Bruce returned to the VCNDD as a Research Assistant Professor and Project Leader for a collaboration with Boehringer-Ingelheim to develop novel small molecule PAMs of mGluR1 and mGluR3 as treatments for schizophrenia.
Selected Publications
Melancon, B.J.; Wood, M.R.; Noetzel, M.J.; Nance, K.D.; Engelberg, E.M.; Han, C.; Lamsal, A.; Chang, S.; Cho, H.P.; Byers, F.W.; Bubser, M.; Jones, C.K.; Niswender, C.M.; Wood, M.W.; Engers, D.W.; Wu, D.; Brandon, N.J.; Duggan, M.E.; Conn, P.J.; Bridges, T.M.; Lindsley, C.W. 'Optimization of M4 positive allosteric modulators (PAMs): The discovery of VU0476406, a non-human primate in vivo tool compound for translational pharmacology' Bioorganic & Medicinal Chemistry Letters (2017); 27(11): 2296-2301. {DOI: 10.1016/j.bmcl.2017.04.043; PMID: 28442253}
Melancon, B.J.; Tarr, J.C.; Panarese, J.D.; Wood, M.R.; Lindsley, C.W. 'Allosteric Modulation: A Potential Treatment for Schizophrenia and Alzheimer's Disease' Drug Discovery Today (2013); 18(23/24): 1185-1199. {DOI: 10.1016/j.drudis.2013.09.005}
Melancon, B.J.; Hopkins, C.R.; Wood, M.R.; Emmitte, K.A.; Niswender, C.M.; Christopoulos, A.; Conn, P.J.; Lindsley, C.W. 'Allosteric Modulation of Seven Transmembrane Spanning Receptors: Theory, Practice and Opportunity for CNS Drug Discovery' Journal of Medicinal Chemistry (2012); 55(4): 2639-2643. {DOI: 10.1021/jm201139r; PMID: 22148748}
Throne, C.A.; Hanson, A.J.; Schneider, J.; Tahinci, E.; Orton, D.; Cselenyi; C.S.; Jernigan, K.K.; Meyers, K.C.; Hang, B.I.; Waterson, A.G.; Kim, K.; Melancon, B.J.; Ghidu, V.P.; Sulikowski, G.A.; LaFleur, B.; Salic, A.; Lee, L.A.; Miller III, D.M.; Lee, E. 'Small-molecule inhibition of Wnt signaling through activation of casein kinase 1α' Nature Chemical Biology (2010); 6(10): 829-836. {DOI: 10.1038/nchembio.453}
Lindsley, C.W.; Conn, P.J.; Wood, M.R.; Poslusney, M.S.; Melancon, B.J. 'Substituted thieno[2,3-c]pyridazine-6-carboxamide analogs as positive allosteric modulators of the muscarinic acetylcholine receptor M4' PCT Int. Appl. (2015); WO 2015027204
Lindsley, C.W.; Conn, P.J.; Wood, M.R.; Poslusney, M.S.; Tarr, J.C. Melancon, B.J. 'Substituted thieno[2,3-c]pyridazine-6-carboxamide analogs as positive allosteric modulators of the muscarinic acetylcholine receptor M4' PCT Int. Appl. (2015); WO 2015027214
For a list of all publications, click here