Andrew Felts, Ph.D.
Research Assistant Professor |
Associate Director of Medicinal Chemistry
B.S.
Univeristy of Tennessee, 2000
Psychology
B.S.
Florida State Univeristy, 2002
Chemistry
Ph.D.
Vanderbilt University, 2007
Chemistry
Phone: (615) 322-7324
Fax: (615) 322-8577
Email: a.felts@vanderbilt.edu
Location: Cool Springs Innovation Park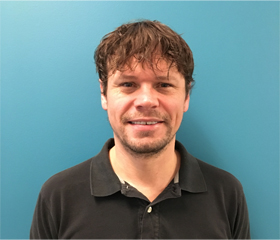 Mailing Address:
Vanderbilt University/VCNDD
1205 Light Hall
Nashville, TN 37232-0697
Biosketch and Research Interests
Dr. Andrew Felts, Ph.D., is an Associate Director of Medicinal Chemistry in the Lindsley Lab. Andrew obtained his doctoral and post-doctoral training at Vanderbilt University in the laboratory of Larry Marnett where his work focused on the design and synthesis of novel NSAIDs as anti-tumor agents. Using well established anti-inflammatory drugs as scaffolds he developed a novel class of compounds that were devoid of cyclooxygenase inhibitory activity but were potent inducers of apoptosis in a variety of cancer cell lines as well as activators of the nuclear transcription factor PPARγ. These compounds represented useful probes for cyclooxygenase independent biology as well as potential leads for the development of agents for the treatment of cancer and diabetes.
Andrew joined Craig Lindsley's lab in 2008 and since then, his research has focused primarily on the development of allosteric modulators of metabotropic glutamate receptors (mGlus). The mGlus represent a family of GPCRs that play a diverse role in the central nervous system, and many of their signaling pathways have been implicated in a diverse array of neurological diseases. It is believed that allosteric modulation of these receptors offers the potential for a much safer and therapeutically precise approach to the treatment of these physiological disorders.
Upon joining the VCNDD, Andrew worked on the mGu5 NAM program that was focused on developing molecules for the treatment of Fragile X syndrome. As the lead chemist, he was part of a small team that spent several years expanding an initial HTS hit into a diverse lead series and eventually a pre-clinical candidate. More recently, he directed the chemistry efforts of the mGlu4 PAM program which succeeded in developing promising candidate for the treatment of Parkinson's disease that is currently in pre-clinical development.
Currently Andrew is directing the chemistry efforts of the early stage M5 NAM program focused on developing molecules for the treatment of addiction.
Selected Publications