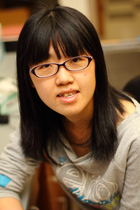 Yuan Hong
Visiting Scholar, October 2011 - May 2012, Pharmacology

---
Education
2005-2009 BS Huazhong University of Science and Technology, Wuhan, China
Major: Biotechnology
Thesis title: Ephrin A2 regulates nerve regeneration of chick hair cells after hearing injury.
Mentors: Dr. Fude Huang and Dr. Mingliang Xiang
Currently graduate student at Drexel University, Philadelphia, PA
Research Description
Yuan joined the lab in October 2011 and left in May 2012.
Currently graduate student at Drexel University, Philadelphia, PA
She was focusing on the molecular mechanisms of photoreceptor death and survival.
Paper from the lab:
Song, X., Seo, J., Baameur, F., Vishnivetskiy, S.A., Chen, Q., Kook, S., Kim, M., Brooks, E.K., Altenbach, C., Hong, Y., Hanson, S.M., Palazzo, M.C., Chen, J., Hubbell, W.L., Gurevich, E.V., Gurevich, V.V. Rapid degeneration of rod photoreceptors expressing self-association-deficient arrestin-1 mutant. Cell Signal 25, 2613-2624 (2013).
---