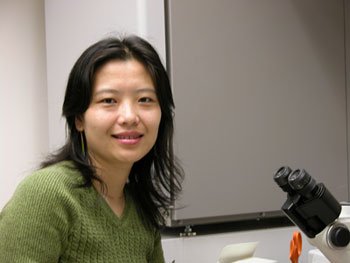 Xiufeng Song
Post-doc, 2004-2009, Pharmacology

---
Education:
09/99- 09/02  Ph.D. Majored in Human Genetics, School of Life Sciences of Fudan University (National Key Lab).
09/96-07/99   M.S.  Majored in Genetics, Department of Biology of Xinjiang University and trained in the Institute of Genetics of Fudan University
09/92-07/96   B.S.   Majored in Biology, Department of Biology of Xinjiang University
Awards and Honors:
1. Second prize of the Second English Speech Contest of Graduates, Fudan University.
(1998)
2. First prize of  Guanghua scholarship for graduates of Xinjiang University
(Twice, 1997,1998)
3. Lu Zongling  scholarship (First Prize for female students) of Fudan University
(2001)
Research Description
Xiufeng worked in the lab 2004-2009.
In many human visual disorders light-sensitive cells in the retina die because of acquired or genetic errors in signaling. In particular, defective shutoff of rhodopsin causes night blindness and retinal degeneration. Xiufeng is studying the mechanisms of the protection of photoreceptor cells in the retina from degeneration by phosphorylation-independent "super-arrestins" in the transgenic mice expressing these mutants at different levels. Arrestin quenches rhodopsin signaling by binding light-activated phosphorylated rhodopsin in a 1:1 ratio. Even though under normal circumstances we never have more than a few percent of our rhodopsin activated, photoreceptors express as much arrestin as rhodopsin. Xiufeng wants to figure out why we need so much arrestin. In particular, using genetically modified mice expressing arrestin at different levels she will test how arrestin concentration in photoreceptors affects the rate at which they change their sensitivity in order to adapt to light or darkness. We found that relatively low expression of "super-arrestins" keeps photoreceptor cells healthy and happy, whereas very high expression induces retinal degeneration, i.e., too much of a good thing becomes bad. Therefore she also wants determine the mechanism of "super-arrestin"-induced photoreceptor death which may mimic the situation in certain forms of human retinitis pigmentosa where rhodopsin is continuously hyper-phosphorylated and bound to arrestin.
Among other things, she made an unexpected discovery that both visual arrestins (rod and cone) interact with a variety of non-receptor partners, including proteins involved in life-and-death decisions in the cell: the kinase JNK3 and the ubiquitin ligase Mdm2.
Xiufeng published 12 papers from the lab, and had several before.
Publications from the lab:
Samaranayake, S., Song, X., Vishnivetskiy. S.A., Chen, J., Gurevich, E.V., Gurevich, V.V. Enhanced mutant compensates for defects in rhodopsin phosphorylation in the presence of endogenous arrestin-1. Front Mol Neurosci 11, 203; doi: 10.3389/fnmol.2018.00203 (2018).
Song, X., Seo, J., Baameur, F., Vishnivetskiy, S.A., Chen, Q., Kook, S., Kim, M., Brooks, E.K., Altenbach, C., Hong, Y., Hanson, S.M., Palazzo, M.C., Chen, J., Hubbell, W.L., Gurevich, E.V., Gurevich, V.V. Rapid degeneration of rod photoreceptors expressing self-association-deficient arrestin-1 mutant. Cell Signal 25, 2613-2624 (2013).
Gurevich, V.V., Hanson, S.M., Song, X., Vishnivetskiy, S.A., Gurevich, E.V. The functional cycle of visual arrestins in photoreceptor cells. Prog Retin Eye Res 30, 405-430 (2011).
Cleghorn, W.M., Tsakem, E.L., Song, X., Vishnivetskiy, S.A., Seo, J., Chen, J., Gurevich, E.V., and Gurevich, V.V. Progressive reduction of its expression in rods reveales two pools of arrestin-1 in the outer segment with different roles in photoresponse recovery. PLoS One 6 (7), e22797 (2011).
Ahmed, M.R., Zhan, X., Song, X., Kook, S., Gurevich, V.V., Gurevich, E.V. Ubiquitin ligase parkin promotes Mdm2-arrestin interaction but inhibits arrestin ubiquitination. Biochemistry 50, 3749-3763 (2011).
Song, X., Vishnivetskiy, S.A., Seo, J., Chen, J., Gurevich, E.V., Gurevich, V.V. Arrestin-1 expression level in rods: balancing functional performance and photoreceptor health. Neuroscience 174, 37-49 (2011).
Song, X., Vishnivetskiy, S.A., Gross, O.P., Emelianoff, K., Mendez, A., Chen, J.,  Gurevich, E.V., Burns, M.E., Gurevich, V.V. Enhanced arrestin facilitates recovery and protects rods lacking rhodopsin phosphorylation Curr Biol 19, 700-705 (2009).
Song, X., Coffa, S., Fu, H., Gurevich, V.V. How does arrestin assemble MAP kinases into a signaling complex? J Biol Chem 284, 685-95 (2009).
Song, X., Gurevich, E.V., and Gurevich, V.V. Cone arrestin binding to JNK3 and Mdm2: conformational preference and localization of interaction sites. J. Neurochem 103, 1053–1062 (2007).
Hanson, S.M., Gurevich, E.V., Vishnivetskiy, S.A., Ahmed, M.R., Song, X., and Gurevich, V.V. Each rhodopsin molecule binds its own arrestin. Proc. Natl. Acad. Sci. USA 104 , 3125-3128 (2007).
Chan, S., Rubin, W.W., Mendez, A., Liu, X., Song, X., Hanson, S.M., Craft, C.M., Gurevich, V.V. , Burns, M.E., and Chen, J. Functional comparisons of visual arrestins in rod photoreceptors of transgenic mice. Invest Ophthalmol Vis Sci 48 , 1968-1075 (2007).
Hanson, S.M., Cleghorn, W.M., Francis, D.J., Vishnivetskiy, S.A., Raman, D., Song, X., Nair, K.S., Slepak, V.Z., Klug, C.S., and Gurevich, V.V. Arrestin mobilizes signaling proteins to the cytoskeleton and redirects their activity. J Mol Biol 368 , 375-387 (2007).
Song, X., Raman, D., Gurevich, E. V., Vishnivetskiy, S. A., and Gurevich, V. V. Visual and both non-visual arrestins in their "inactive" conformation bind JNK3 and MDM2 and relocalize them from the nucleus to the cytoplasm. J Biol Chem 281 , 21491-21499 (2006).
Earlier publications:
Wen B, Li H, Lu D, Song X, et al. Genetic evidence supports demic diffusion of Han culture. Nature. 2004 Sep 16;431 (7006):302-5.
Wen B Xie X Gao S Li H Shi H Song X Qian T et al. Analyses of genetic structure of Tibeto-Burman populations reveals sex-biased admixture in southern Tibeto-Burmans. Am J Hum Genet.2004 May;74 (5):856-65.
Bai Y Hu P Park JS Deng JH Song X Chomyn A et al. Genetic and functional analysis of mitochondrial DNA-encoded complex I genes. Ann N Y Acad Sci. 2004 Apr; 1011:272-83.
Xiufeng Song Jian-Hong Deng Changsheng J. Liu Yidong Bai. Specific point mutations may not accumulate with aging in the mouse mitochondrial DNA control region. Gene 2005 May 9;350 (2):193-9.
Wu H Song X Xiao J, et al Two single nucleotide polymorphisms of beta 2-adrenoceptor gene in elderly patients with hypertension. Zhonghua Yi Xue Yi Chuan Xue Za Zhi. 2002 Apr; 19(2):127-9. (Chinese).
Yuehai Ke Bingsu Xiufeng Song et al. African Origin of Modern Humans in East Asia: A tale of 12,000 Y chromosomes. 2001 Science 5519 (292):1152-1154.
Presentations at International Meetings:
Song X. and Jin L. How the East met the West – Genetic Admixture of Northern Chinese. 2002 Collegium Anthropologicum Vol.26 Supplement, P193-194
L Jin Y Ke X Song et al. No Independent Origin of Modern Human in East Asia : A tale of 12,000 Y chromosomes. American Journal of Human Genetics. 2000 Vol 67(4),supplement 2, Abstract, P236
B Su X Song Y Ke et al. Genetic evidence for an East Asia contribution to the second wave of migration to the new world. American Journal of Human Genetics. 2000 Vol 67(4), supplement 2, Abstract, P237
---