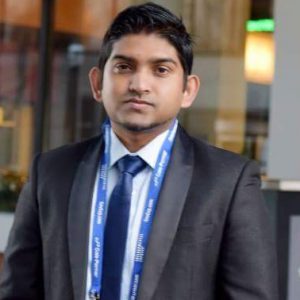 Srimal Samaranayake
Post-doc, Pharmacology

---
Srimal joined the lab in September 2017.
Srimal received a bachelor's of science (2010) from University of Peradeniya, Sri Lanka and Ph.D. (2017) from University of South Carolina (Advisor: Dr. Parastoo Hashemi).
In Hashemi lab, he developed a method to simultaneously measure serotonin and histamine in vivo using Fast Scan Cyclic Voltammetry and explored how these two neurotransmitters regulate each other in the brain in healthy and diseased brain.
Research Description
Srimal plans to concentrate on work with mice expressing new and improved version of enhanced visual arrestin-1. He will also participate in biochemical and behavioral studies of arrestin family to explore diverse molecular mechanisms of arrestin-mediated signaling.
PUBLICATIONS FROM THE LAB
Samaranayake, S., Vishnivetskiy, S.A., Shores, C.R., Thibeault, K.C., Kook, S.,Chen, J., Burns, M.E., Gurevich, E.V., Gurevich, V.V. Biological role of arrestin-1 oligomerization. J Neurosci, in press (2020).
Samaranayake, S., Song, X., Vishnivetskiy. S.A., Chen, J., Gurevich, E.V., Gurevich, V.V. Enhanced mutant compensates for defects in rhodopsin phosphorylation in the presence of endogenous arrestin-1. Front Mol Neurosci 11, 203; doi: 10.3389/fnmol.2018.00203 (2018).
PREVIOUS PUBLICATIONS
1.    Abdalla A, Atcherley C. W, Pathirathna P, Samaranayake S, Heien M. L, Hashemi P, "In Vivo Ambient Serotonin Measurements at Carbon-fiber Microelectrodes", Anal Chem, 2017, Just accepted.
2.    Samaranayake S, Abdalla A, Robke R, Nijhout H.F, Reed M.C, Best J, Hashemi P, A Voltammetric and Mathematical Analysis of Histaminergic Modulation of Serotonin in the Mouse Hypothalamus, J Neurochem. 2016, 138(03):374-383.
3.    Samaranayake S. Abdalla A. Robke R. Wood K. M. Zeqja A. Hashemi P. In vivo histamine voltammetry in the mouse premammillary nucleus.  Analyst. 2015,140, 3759. (Front Cover)
4.    Pathirathna P, Samaranayake S, Atcherley C.W, Parent K.L, Heien M.L, McElmurry S.P, et al. Fast voltammetry of metals at carbon-fiber microelectrodes: copper adsorption onto activated carbon aids rapid electrochemical analysis. Analyst. 2014;139(18):4673-80.
---