Preethi Karnam
---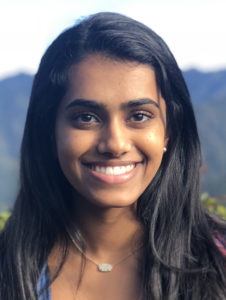 Preethi is currently a sophomore (class of 2022). She plans to major in Neuroscience and Medicine, Health, and Society. She is from Athens, GA and chose Vanderbilt for its numerous opportunities in medicine and research and a beautiful campus that was close to home. In her free time, she enjoys dance, running, and exploring new restaurants in Nashville.
Preethi joined the lab in January 2019 as an undergraduate intern. She is working under the supervision of Drs. Vsevolod Gurevich and Sergey Vishnivetskiy, making and testing mutants of bovine and mouse visual arrestin-1.
Papers from the lab:
Karnam, P., Vishnivetskiy, S.A., Gurevich, V.V. Structural basis of arrestin selectivity for active phosphorylated G protein-coupled receptors. Int J Mol Sci 22 (22), 12481; DOI: doi.org/10.3390/ijms222212481 (2021).
Vishnivetskiy, S.A., Zheng, C., May, M.B., Karnam, P.C., Gurevich, E.V., Gurevich, V.V. Lysine in the lariat loop of arrestin does not serve as phosphate sensor. J Neurochem,156 (4):435-444; doi: 10.1111/jnc.15110 (2020).
---