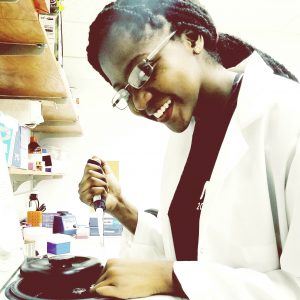 Luwi Shamambo
Undergraduate intern, Pharmacology

---
Luwi is a VU Junior double majoring in Medicine Health and Society and Spanish. She joined the lab in the fall of 2017 after spending her summer working in a lab in the Biological Sciences Department through Vanderbilt Summer Science Academy. She's also currently part of SyBBURE, an exciting undergraduate year-round research program here at Vanderbilt.
Research Description
Luwi focuses on understanding the shape-shifting dynamics of the arrestin-rhodopsin complex. Under supervision of Nicki Perry she is introducing unique cysteines on bovine arrestin-1 cys-less background to measure distances with selected points in rhodopsin. She is also making enhanced arrestin-1 construct to bind non-phosphorylated rhodopsin in order to determine the shape of rhodopsin in complex with arrestin-1 (as compared to its shape in free form or in complex with cognate G protein, transducin)(both in collaboration with Wayne Hubbell's lab at UCLA).
Papers from the lab:
Will come when these stories are developed
---