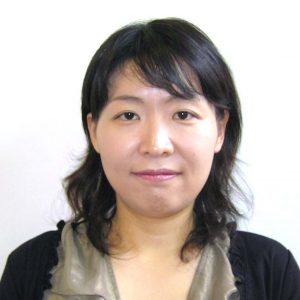 Jungwon Seo, PhD
Post-doc, 2009-2010, Pharmacology

---
Education
2001~2005     Ph. D. in Department of Physiological Chemistry, Graduate
School of Pharmaceutical Sciences, University of Tokyo, Japan
1999~2001     M.S. in Department of Physiological Chemistry, Graduate
School of Pharmaceutical Sciences, University of Tokyo, Japan
1993~1997     B.S. in Department of Pharmaceutics, College of Pharmacy,
Ewha Womans University, Seoul, Korea
Research Description
Jungwon worked as a post-doc for a little over 1 year. She is currently Assistant Professor at Wonkwang University, Korea
Jungwon was focusing on the molecular mechanism of arrestin interaction with pro-apoptotic MAP kinase JNK3 and arrestin-dependent activation of JNK kinases in the cell. She is identifying arrestin-3 residues responsible for its ability to activate JNK cascade (in contrast to arrestin-1 and -2, that bind all three kinases, ASK1, MKK4, and JNK3, with comparable affinity, but do not promote JNK3 activation. The ultimate goal of these studies is to enable us to desing signaling-biased arrestins that channel the signaling towards pro-apoptotic or pro-survival pathways in the cell.
Jungwon also actively participated in in studies of transgenic mice expressing arrestin-1 at different levels in order to establish why photoreceptors express it at a particular level and how excessive expression of arrestin mutants leads to the death of photoreceptor cells.
Jungwon published four papers from the lab:
Song, X., Seo, J., Baameur, F., Vishnivetskiy, S.A., Chen, Q., Kook, S., Kim, M., Brooks, E.K., Altenbach, C., Hong, Y., Hanson, S.M., Palazzo, M.C., Chen, J., Hubbell, W.L., Gurevich, E.V., Gurevich, V.V. Rapid degeneration of rod photoreceptors expressing self-association-deficient arrestin-1 mutant. Cell Signal 25, 2613-2624 (2013).
Cleghorn, W.M., Tsakem, E.L., Song, X., Vishnivetskiy, S.A., Seo, J., Chen, J., Gurevich, E.V., and Gurevich, V.V. Progressive reduction of its expression in rods reveales two pools of arrestin-1 in the outer segment with different roles in photoresponse recovery. PLoS One 6 (7), e22797 (2011).
Seo, J., Tsakem, E.L., Breitman, M., and Gurevich, V.V. Identification of arrestin-3-specific residues necessary for JNK3 activation. J Biol Chem 286, 27894-27901 (2011).
Song, X., Vishnivetskiy, S.A., Seo, J., Chen, J., Gurevich, E.V., Gurevich, V.V. Arrestin-1 expression level in rods: balancing functional performance and photoreceptor health. Neuroscience 174, 37-49 (2011).
---