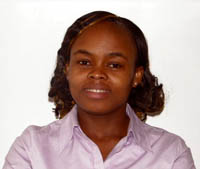 Elviche L. Tsakem
Research Assistant, 2009-2011, Pharmacology

---
Education
10/2002 – 03/2009 Master of Science in Biotechnology – Technical University in Berlin, Germany (Specialization in Medical Biotechnology)
09/2001 – 02/2002 German Language, Hartnachschule in Berlin, Germany
09/1992 – 06/1999 High School of Mbouda, Cameroon
Research Description
Elvi worked in the lab 2009-2011. In August 2011 Elvi moved with her husband to Texas.
Elvi was running our colony of genetically modified mice carrying knockouts of different visual genes and transgenically expressing arrestin and rhodopsin mutants. She also actively participated in several research projects. Elvi worked on studies of transgenic mice expressing arrestin-1 at different levels in order to establish why photoreceptors express it at a particular level and how excessive expression of arrestin mutants leads to the death of photoreceptor cells. She also collaborated with Dr. Eugenia Gurevich lab on establishing mouse model of Parkinson's disease with dementia and on arrestin-2 and -3 knockout mice.
Papers from the lab:
Zurkovsky L, Bychkov E, Tsakem EL, Siedlecki C, Blakely RD, Gurevich EV. Cognitive effects of dopamine depletion in the context of diminished acetylcholine signaling capacity in mice. Dis Model Mech. 2013 Jan;6(1):171-83.
Cleghorn, W.M., Tsakem, E.L., Song, X., Vishnivetskiy, S.A., Seo, J., Chen, J., Gurevich, E.V., and Gurevich, V.V. Progressive reduction of its expression in rods reveales two pools of arrestin-1 in the outer segment with different roles in photoresponse recovery. PLoS One 6 (7), e22797 (2011).
Seo, J., Tsakem, E.L., Breitman, M., and Gurevich, V.V. Identification of arrestin-3-specific residues necessary for JNK3 activation. J Biol Chem 286, 27894-27901 (2011).
---