Elizabeth Huh
---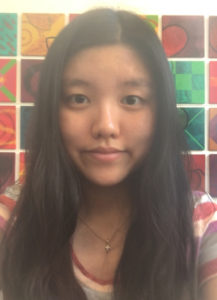 Elizabeth is currently a sophomore (class of 2021) majoring in neuroscience and minoring in Spanish. She is from York, Pennsylvania and chose Vanderbilt because of students' accessibility to its medical centers, extensive research opportunities, and beautiful campus. In her free time, she enjoys exercising, watching movies/shows, listening to nature, and exploring Nashville's culinary scene.
Elizabeth joined the lab in October 2018 as an undergraduate intern. She is working under the supervision of Dr. Vishnivetskiy on structure-function studies of bovine visual arrestin-1, first focusing on the role of the finger loop in rhodopsin binding. She is generating mutants on WT and enhanced background, that will be subsequently expressed in cell-free translation and used in direct binding assay to assess the effect of introduced mutations on arrestin-1 interactions with P-Rh* and Rh*.
Papers from the lab:
Vishnivetskiy, S.A., Huh, E.K., Gurevich,m E.V., Gurevich, V.V. The finger loop as an activation sensor in arrestin. J Neurochem 157 (4), 1138-1152; doi: 10.1111/jnc.15232 (2020).
---