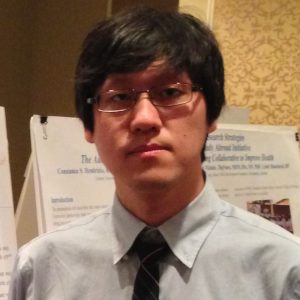 Chen Zheng
---
Chen joined the lab as a post-doc in August 2016.
He plans to focus on work with mice expressing enhanced visual arrestin-1 to determine how far we can push the compensation for defects in rhodopsin phosphorylation with phosphorylation-independent arrestins.
He also plans to participate in biochemical and biophysical studies of arrestin-1 and other members of the arrestin family to elucidate molecular mechanisms of arrestin-mediated signaling.
Awards
1st place Vanderbilt post-doctoral poster award in 2019
EDUCATION
B.S.: Biotechnology, Hefei University of Technology, China               Sep 2003 – Jun 2007
M.S.: Pathogenic Biology, Life Science Research Center, School of Basic Medical Sciences, Tianjin Medical University, China                   Sep 2008 – Jun 2011
Ph.D.: Nutrition Sciences (Cellular, molecular and neuroscience), Auburn University, USA               Aug 2011 – 2016
PAPERS FROM THE LAB
Perry-Hauser, N.A., Hopkins, J.B., Zhuo, Y., Zheng, C., Perez, I., Schulz, K.M., Vishnivetskiy, S.A., Kaya, A.I., Sharma, P., Dalby, K.N., Chung, K.Y., Klug, C.S., Gurevich, V.V., Iverson, T.M. The two non-visual arrestins engage ERK2 differently. J Mol Biol 434, (7), 167465; doi: 10.1016/j.jmb.2022.167465 (2022).
Vishnivetskiy, S.A., Zheng, C., May, M.B., Karnam, P.C., Gurevich, E.V., Gurevich, V.V. Lysine in the lariat loop of arrestin does not serve as phosphate sensor. J Neurochem, in press; doi: 10.1111/jnc.15110 (2020).
Zheng, C., Tholen, J. Gurevich, V.V. Critical role of the finger loop in arrestin binding to the receptors. PLoS One 14 (3), e0213792; doi: 10.1371/journal.pone.0213792 (2019).
PREVIOUS PUBLICATIONS
Neidert LE, Wainright KS, Zheng C, Jeganathan RB. Plasma Dipeptidyl Peptidase IV activity and measures of body composition in apparently healthy people. Heliyon. 2016; 4: 0097
Zheng C, Geetha T, White J, Jeganathan RB. Aβ impairs TrkA polyubiquitination and activation of MAPK and Akt. J Neurochem. 2015; 6: 919-925.
Zheng C, Geetha T, Jeganathan RB. Failure of Ubiquitin Proteasome System: Risk for Neurodegenerative Diseases. Neurodegener Dis. 2014; 14: 161-175.
Desai G, Zheng, C, Geetha T, Mathews ST, White BD, Huggins KW, Zizza CA, Broderick TL, Jeganathan RB. The pancreas-brain axis: insight into disrupted mechanisms associating type 2 diabetes and Alzheimer disease. J Alzheimers Dis. 2014; 42: 347-356.
Geetha T, Zheng C, McGregor WC, Douglas White B, Diaz-Meco MT, Moscat J, Jeganathan RB. TRAF6 and p62 inhibit amyloid beta-induced neuronal death through p75 neurotrophin receptor. Neurochem Int. 2012; 61:1289-1293.
Geetha T, Zheng C, Vishwaprakash N, Broderick TL, Jeganathan RB. Sequestosome 1 / p62, a Scaffolding Protein, is a Newly Identified Partner of IRS-1. J Biol Chem. 2012; 287:29672-29678.
Geetha T*, Zheng C*, Unroe B, Sycheva M, Kluess H, Jeganathan RB. Polyubiquitination of the neurotrophin receptor p75 directs neuronal cell survival. Biochem Biophys Res Commun. 2012; 421:286-290 (* Equal Contribution).
Li YX*, Liu DQ*, Zheng C*, Zheng SQ, Liu M, Li X, Tang H (2011) miR-200a modulate HUVECs viability and migration. IUBMB Life 63: 553-559 (* Equal Contribution)
In preparation:
Zheng C, Mathews S, Geetha T, Jeganathan RB. Impairment of Akt ubiquitination attenuate its activation. J Biol Chem 2016.
---