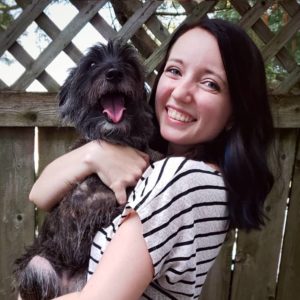 Dr. Abigail (Abbie) Neininger
Former PhD Student; Currently a postdoc at the Salk Institute in the lab of Dr. Pallav Kasuri.

---
Thesis Title: "Molecular Basis for Heart Growth through Hyperplasia and Hypertrophy"
Burnette Lab Publications:
2018   Fenix AM, Neininger AC, Taneja N, Hyde K, Visetsouk MR, Garde RJ, Liu B, Nixon BR, Manalo AE, Becker JR, Crawley SW, Bader DM, Tyska MJ, Liu Q, Gutzman JH, Burnette DT. Muscle-specific stress fibers give rise to sarcomeres in cardiomyocytes. eLife. Dec 12;7. pii: e42144.
2019   Neininger AC, Long JH, Baillargeon SM, Burnette DT. A simple and flexible high-throughput  method for the study of cardiomyocyte proliferation. Scientific Reports. Nov 4;9(1):15917.
2020   Rasmussen ML*, Taneja N*, Neininger AC, Wang L, Robertson G, Riffle S, Shi L, Knollmann BC, Burnette DT, Gama V. MCL-1 inhibition by selective BH3 mimetics disrupts mitochondrial dynamics causing loss of viability and functionality of human cardiomyocytes. iScience. Mar 30;23(4):101015. * denotes equal contributions
2020   Taneja N*, Neininger AC*, Burnette DT. Coupling to substrate adhesions drives the maturation of muscle stress fibers into myofibrils within cardiomyocytes. Molecular Biology of the Cell. Jun 1;31(12):1273-1288. * denotes equal contributions
2021   Neininger AC, Dai X, Liu Q, Burnette DT. The Hippo pathway regulates density-dependent proliferation of iPSC-derived cardiac myocytes. Scientific Reports. Sep 7;11(1):17759. doi: 10.1038/s41598-021-97133-6. PMID: 34493746
2021   Ma Z, Lytle NK, Chen B, Jyotsana N, Novak SW, Cho CJ, Caplan L, Ben-Levy O, Neininger AC, Burnette DT, Trinh VQ, Tan MCB, Patterson EA, Arrojo E Drigo R, Giraddi RR, Ramos C, Means AL, Matsumoto I, Manor U, Mills JC, Goldenring JR, Lau KS, Wahl GM, DelGiorno KE. Single-Cell Transcriptomics Reveals a Conserved Metaplasia Program in Pancreatic Injury. Gastroenterology. Oct 23:S0016-5085(21)03665-9. doi: 10.1053/j.gastro.2021.10.027. Online ahead of print. PMID: 34695382
2021   Zhang Q, Jeppesen DK, Higginbotham JN, Graves-Deal R, Trinh VQ, Ramirez MA, Sohn Y, Neininger AC, Taneja N, McKinley ET, Niitsu H, Cao Z, Evans R, Glass SE, Ray KC, Fissell WH, Hill S, Rose KL, Huh WJ, Washington MK, Ayers GD, Burnette DT, Sharma S, Rome LH, Franklin JL, Lee YA, Liu Q, Coffey RJ. Supermeres are functional extracellular nanoparticles replete with disease biomarkers and therapeutic targets. Nature Cell Biology. Dec 9. doi: 10.1038/s41556-021-00805-8. Online ahead of print. PMID: 34887515
---